A unique perspective – London Marathon.
May 3rd, 2018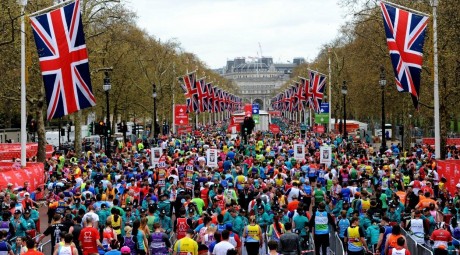 As residents in the city, we often sell London based on our best knowledge and the things we have experienced, but like anything, a fresh perspective and a fresh pair of eyes always gives a unique and refreshing view on any subject matter. Today we have with us Akintunde Ogunmodede, a Nigerian based Marathon lover, who talks about his experience in the recently concluded London Marathon.
VIRGIN MONEY LONDON MARATHON – A TRULY SPECIAL CITY HOSTS A TRULY SPECIAL RACE.
I've now run nine marathons and the London marathon was undoubtedly head and shoulders above the others in terms of organization, city atmosphere and crowd support. I will come back to crowd support in a bit. The London marathon also holds a very special place in my running journey as I ran a sub 4hr marathon (albeit barely) for the first time taking 15minutes and 49 seconds off my previous best in the process. I finished in 3hrs, 59 minutes and 44 seconds – woohoo!!!
My marathon medal case includes Amsterdam, Vienna, Lagos, New York, Singapore, Ile-Ife, Berlin, and London.
Running a marathon takes some investment – training time, diet discipline and a significant financial outlay for international races not to mention frequently changing running shoes and getting up at crazy hours of the morning to get the miles in. So, you really have to want it and be a little crazy to commit to running the 26.2 miles of a marathon distance. It doesn't help that most races have a maximum finish time after which your participation is not recorded and you don't receive a finisher's medal. Finally, if not properly managed, marathon training can also place a real strain on personal relationships as running can very easily appear to be the most important thing to a runner during training season.
I ran the 38th edition of the London marathon on April 22, 2018, in support of Amref Health Africa – a charity that supports and promotes maternal health in Africa. It gave me the opportunity to raise funds for a cause I could relate to and served as an additional motivation and driving force during my run. It was my second-time fundraising for Amref Health Africa after doing so in 2016 at the New York Marathon. I am really impressed at the work of the folks at Amref (not to mention the mid-run cheering) and encourage those that are so inspired to support their efforts by visiting www.amref.org. You can also give using this link: https://uk.virginmoneygiving.com/AkintundeOgunmodede
I headed to London from Lagos with eight other members of my running club – Road Warriors (www.rwrglobal.org). The very fine men and women of this club transformed my running within 3 years (the longest distance I had ever run as of January 2015 was 13km and you don't want to know how long it took me). The discipline, support, camaraderie and subtle competition within this bunch of folks is truly amazing. Road Warriors (Lagos) is a running club and a professional network with a strong social bond.
Before I forget why I put pen to paper – The London Marathon. Amazing!!! amazing, amazing, amazing. Did I mention amazing? That's how awesome the crowd support was. The runners literally went through over 26 miles of non-stop cheering, screams, high fives, positive chants, deejay and choir performances and dance routines. Forget Red Bull giving you wings; good quality spectator support simply makes a runner fly. I thought the crowd support in New York was great until the race on Sunday. NY doesn't even come close. Kudos and a big Thank You to the people of the City of London, the race day staff and volunteers and the marathon organizers. Their efforts make all the difference to the over forty thousand runners that grace the streets every year. The commitment of the city to the event was demonstrated by the fact that race was flagged off by none other than Queen of England herself and the medal presentation to the winners was done by Prince Harry (my favorite Royal ).
The London marathon is one of the six prestigious so-called "Marathon Majors" along with Berlin, Boston, Chicago, New York and Tokyo. It is set over a largely flat course around the River Thames, beginning at Greenwich and finishes in The Mall alongside St James's Park. The 2018 London City Marathon saw Mo Farah set a new British Marathon record of 2:06:21 (impressive) and the almighty Eliud Kipchoge won the race (his third win) in 2:04:17 – 1 minute and 20 seconds shy of the world record set by Dennis Kimetto in September 2014 (Berlin).
I will remember April 22, 2018, for a long time. That race will hold a special place for me and though I have a tradition of not running the same marathon twice, if I were to break that, it could only be for London. If you're planning to run only one marathon in your lifetime, you have to make it London.
My Race Details
| | |
| --- | --- |
| Finish Time | 3:59:44 |
| First halftime | 2:00:07 (2,373 runners went past me and I went past 683 in the 1st half) |
| Second half time | 1:59:37 (88 runners went past me and I went past 3,109 in the 2nd half) |
| Finish Position – Overall | 9636/40149 |
| Finish Position – Men | 7447/23684 |
Start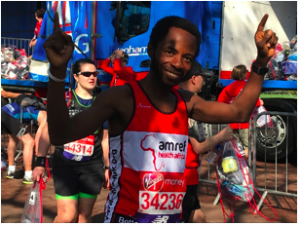 Finish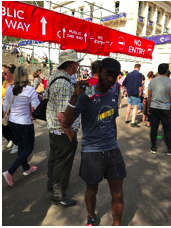 Akintunde Ogunmodede
April 2018