Landlords Beware: Your property might be a Cannabis factory
December 13th, 2016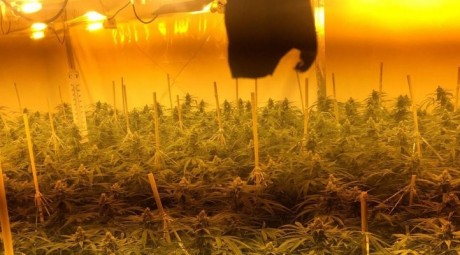 In any business, paying attention to details is vital. Thirty years in business also revealed to me that following one's intuition in every deal is sacred.
Rented properties are often a convenient way for criminals to hide their drug production from public gaze. As a letting agent or a private landlord, you have a legal and ethical responsibility to help protect and preserve the community. Failure to do this attracts severe penalties.
Under the Misuse of Drugs Act 1971 a landlord or property manager can receive a maximum of 14 years in prison and/or a fine if they allow the production of controlled drugs to take place in rented accommodation. Under this legislation there is also the potential for a premises to be seized, forfeited or demolished.
At best for landlords, the cost implication can be huge as it takes time for premises to be cleared and made safe for future tenants. This results in a loss of earnings.
As part of our management offering therefore, we pay regular visits to the properties under our care to ensure tenants are using the property suitably and that our landlords suffer no asset depreciation due to reckless use.
We had a peculiar case recently. We had regularly tried to schedule a visit, but the tenants repeatedly said they were either unavailable or out of town. These excuses continued up till summer when an inquisitive staff noticed a flash of light piercing out of a window during a bright sunny day.
Our fears were confirmed when we decided to get into the property and realised the locks had been changed and electricity had been illegally wired from the mains.
The whole house had been fitted to be a modern day Cannabis factory with direct connections made to the electric mains outside the building, the chimney sealed up to create a constant internal temperature with kevlar flooring. All the radiators had been taken out, the windows blacked out and foils around the walls to reflect heat inwards. Even the bathroom wasn't left out of the fun; the showerhead had been converted to a sprinkler, which we assume was for watering the plants. At this point it was clear that they had started winding up operations, probably due to our persistent requests to inspect the property, but all the hallmarks of a cannabis factory remained.
Now, what was truly befuddling about this was that they made the perfect tenants. The rents were always paid on time, no maintenance issues were logged and they kept a low profile.
Thankfully, this was spotted before it got out of hand and the deceptive characters gone in search of the next hydroponics factory.
Conversion of properties to use as cannabis factories has become increasingly popular, there was the popular case of a high street agent who had taken advantage of his services to be involved in a cannabis growing operation and a restaurant on Finchley road that wind down its operations but miscreants took advantage of the empty premises and found new purpose as a cannabis factory (see link)
The scourge has been on the increase as most criminal gangs are switching from harder drugs due to more lenient jail sentences associated with cannabis. It's estimated that around half a million people are involved in growing from suburban houses converted to hidden cannabis factories. A number that makes sense when you factor in that the average grower can make about £40,000 per year from just 9 plants.
The metropolitan Police says that as of 2013, 656 cannabis factories were being found per month and that gangs are converting from large production warehouses to dozens of smaller growing centers that can be set up in hours, in lofts and garages. They increasingly rent apartments and abandon them after short periods of time.
Landlord and property practitioners should take note that the practice is prevalent in flats/apartments as well as houses, find below some tell tale signs:
·     An unusual amount of activity when the tenants first move in
·     Paranoid behaviour by your tenants
·     Excessive fortification of the property (inside and outside)
·     Silver ducting tape hanging out of windows
·     Blacked out windows
·     Low-level hanging equipment
·     Humidity: condensation on windows, peeling wallpaper, mildewed walls
·     A pungent smell
·     Excessive use of deodorisers and air freshener
·     Sudden fluctuations in electricity bills
·     Electrical wiring tampered with
·     No report of repairs and maintenance issues
·     Powerful lights on day and night
·     Birds gathering on the roof in cold weather for warmth.
·     The following items around the property (inside and outside):
·     Plants, lights and reflective materials
·     Bulbs, soil, fertilizer
·     Flasks, beakers, rubber tubing
·     Bubble bags
·     Scales
·     Self-seal bags
·     Gas cylinders
How to avoid falling victim
Steps you can take to weed out tenants who may be involved in this kind of activity:
·     Carry out in-depth tenant checks:
·     Insist on photographic identification (check it hasn't been altered)
·     Take references from previous landlords and employers
·     Check tenants current address
·     Look out for utility bills in different names
·     Be wary of tenants who take particular interest in the electricity supply
·     Be wary of tenants who want to move in very quickly
·     Carry out regular inspections of the property
·     Be aware of your surrounding
·     Take mobile numbers for all tenant
Finally, your instinct or gut feeling might just save you a lot of trouble, damage to the property can be a headache, reduce yields on your investment and waste much of your time.